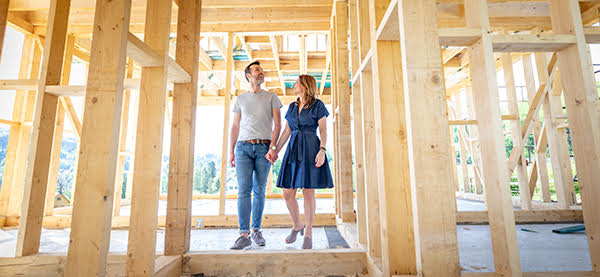 Building a new home is an exciting adventure but requires very different considerations. To help you have the best experience, here are 5 of the most important things to consider:
1. It's All In The Numbers: Whether you are shopping for a pre-built home, or are looking to create your own from the ground up, it is vital to know what you can afford and stay within it. This is the key to building a home that you will be able to enjoy for the next 20 or 30 years, while still maintaining your financial stability.  Overall, the average cost to build a house can range $300,000 to $350,000 for 1,000 square feet to double or triple that amount. For example, an average 2,500 square foot home could cost between $500,000 and $875,000 to build depending on materials, design, etc. Keep in mind, these costs don't include the land or taxes on the construction and material.
2. Choose a Reputable Builder: This one seems pretty straight forward, but when you start looking it can quickly become overwhelming when you realize how many options there are. When it comes to determining the head contractor for your project, careful research is needed. Another option is to consult friends and family members who have gone through the process, or ask me, your mortgage expert and/or your realtor! They often have many qualified contacts in the industry or can help point you in the right direction.
3. Build a Home For Tomorrow: As tempting as it can be to personalize your home to the nth degree and include every cool little feature you can think of, it is important to always keep resale value and practicality in the back of your mind. Life can often throw a few curve balls that, for one reason or another, may result in you having to sell your home in the future. If that time should ever come, you will want to be able to appeal to all buyers easily and not have to hold the house for longer than necessary. Ask yourself if the features you are putting into your home will appeal to others, and also if the design suits the neighborhood you are building in as well.
4. Go Green! Now more than ever before energy efficient upgrades are easy to add to your home. To make your home as efficient as possible, it is important to incorporate these options into your design BEFORE you start building. Options such as energy efficient appliances, windows, HVAC systems, and more can save you money in the long run and may also make you eligible for certain grants and discounts. For instance, the Canadian Mortgage and Housing Corporation (CMHC) green building program rewards those who select energy efficient and environment friendly options.
5. Understand The Loan: Lastly, beyond the costs and design of building a new home, what does a mortgage look like for an unbuilt home? In many cases, this is where a "construction mortgage or a draw mortgage" might come into play. In order to properly qualify for financing on an unbuilt home, I suggest you provide me with a budget that includes both hard and soft costs, as well as the reserve of money you plan to have set aside in case you run into unexpected events.
Requirements for capital
A common mistake that many people don't realize is you need capital upfront. The capital is needed for the initial down payment on the land/lot, as well as city red tape and permits to start the construction and throughout the build. It's personal capital that is needed to finance the build to each stage of the construction. The draw mortgage will then advance money (the draw) to pay back the funds used to hit that stage of construction. For example, your capital finances the foundation of the home then the mortgage draw will advance funds to pay back that foundation capital. Then capital is used to get the house to the next draw stage which is generally framing, roofing, doors and windows (knows as "lock-up") then the mortgage draw pays back the funds used to achieve the stage and so forth.
It is also important to note that the lender will consider the appraised value of the finished product. This value is determined before the project begins. In this example, the completed appraised value of the home would have to be at least $600,000 to qualify. In addition, the client will have to come up with the initial $150,000 to be able to finance the total cost of $600,000.
Additional Notes: When it comes to building your own home and construction loans, here are a few extra things to keep in mind:
Make your building plans in advance and stick with them to avoid costly changes during construction.
Depending on the lender, you may have a time frame within which you need to complete construction (typically between 6 and 12 months).
Construction loans are usually fully opened and can be repaid at any time.
Interest is charged only on amounts drawn; there are no "unused funds"
Once construction is complete and project completion has been verified by the lender, the construction mortgage is "moved over" to a normal mortgage
If you're looking to build a home, don't hesitate to reach out to me for friendly mortgage advice!